The second season of Apex Fencing Academy's Novice Cup ended with a whimper and not a bang. Coronavirus and COVID-19 put a premature end to our season. We hoped to get one more event in, but that was not to be. We at Apex Fencing Academy would like to extend a huge THANK YOU to everyone that participated and to the coaches, referees, volunteers, family and friends.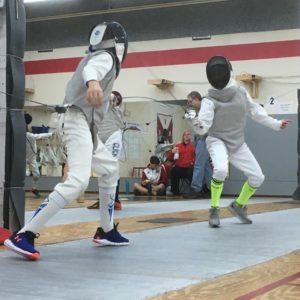 The Novice Cup began with the goal to give fencers with less than 2 years of competitive experience an opportunity to compete locally, earn points, and be recognized for their competitive achievements. Events were held for Y10 men's foil, Y12 men's foil, Y10/Y12 women's foil, Y14 mixed epee, senior mixed epee, senior men's foil and senior women's foil. These events were open to all, but points were tracked for fencers with 2 years or less of competitive experience.
Originally scheduled for eight tournaments, the season was cut short to five; the last one was held February 1st. Despite the shortened season, we had close to 90 fencers from around the state come to Apex, NC to take part in one or more events.
After 5 tournaments, the numbers are in and here are the winners of the Second Annual Novice Cup 2019-2020 (full results are here). Each of the winners will receive a trophy, and their name will be added to a plaque on display at Apex Fencing Academy memorializing their accomplishment.
Y10 men's foil: Kevin Bowles, Apex Fencing Academy
Y12 men's foil: Jackson Jones, Cape Fear Fencing Association
Y10 women's foil: Kayla Cao, North Carolina Fencing Development Program
Y12 women's foil: Elise Owens, Apex Fencing Academy
Y14 mixed epee: Aiden Click, Apex Fencing Academy
Senior mixed epee: Aiden Click, Apex Fencing Academy
Senior men's foil: Conrad Emenheiser, Apex Fencing Academy
Senior women's foil: Catherine Zulueta, Apex Fencing Academy
Congratulations to our winners and to all of the competitors this season!
Next season, some of the competitors will age out of their category, and move up to the senior division. Others will have more than 2 years of fencing under their belt. In any case, we hope to see everyone back next season. Don't worry if you have more than 2 years of competitive experience; you can still compete in these tournaments, but your results won't be calculated for the Novice Cup.
As of late July, COVID-19 still weighs on everyone's mind. We are planning another 8 tournament season for 2020-2021, but we are unsure when we can safely restart. Stay tuned for next season's announcement and schedule. We hope to see you there!
from Apex Fencing Academy https://ift.tt/3jR02Iw
via IFTTT