As the 2018-2019 season winds to a close, so does high school for several of our athletes. These athletes have been an integral part of our club and we would like to honor them here.
Daniel Freeman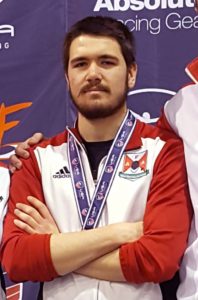 I started fencing in early 2013 with AFA at Middle Creek Community Center because I wanted to be a cool swordsman and learn to use a giant two handed sword. That didn't work out for me. But I am graduating top of my class, from my homeschool, and I'll be attending the New Jersey Institute of Technology in the fall.
At NJIT I'll be fencing with their Division 1 varsity team, and majoring in a yet to be determined technical field.
If I had to offer advice to younger fencers, it would be stay focused, especially during practice. Take your private lessons seriously, and they'll really help you improve.
Chelsea Railton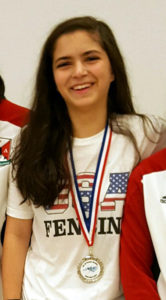 I started fencing 2 years ago with Apex because I was looking for something new and exciting to try as I wrapped up my sophomore year of high school. I was always playing sports but could never stick with them for more than a couple of years before losing interest, fencing is a sport that mentally and physically challenges me and keeps me engaged.
I attended Middle Creek high school where I participated in National Honor society, SkillsUSA, Mock trial, and the AP Capstone Program. I earned the rank of Summa Cum Laude with a 4.52 GPA and am graduating with honors. I will be attending UNC Charlotte for a bachelors in Computer science. I hope to continue fencing as a member of the school's club.
As cheesy as it is, it took me two years to realize this, but if you are a good fencer you never lose, you only learn. Younger fencers should know that it's not about how long you work but about how hard you work, and that applies to more aspects of life than just fencing.
Aidan Labrozzi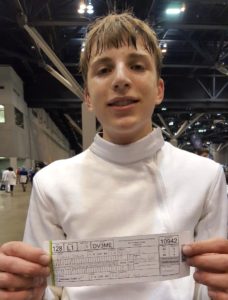 I started fencing at Apex Fencing Academy nearly 6 years ago. I attended Panther Creek High School with all A's, and I was a member of the Math, Latin, and Environmental Clubs there.
This fall I will be attending Georgia Tech, where I will pursue a major in Environmental Engineering and most likely double major in Math as well.
Georgia Tech has a fencing club, and I am eager to join it. I also plan to attend any ROCs or RJCCs in the Atlanta area. So if you AFA fencers find yourself at one of those, look for me!
Speaking of AFA fencers, I do have some advice for newer fencers. There is a point as one progresses in fencing where it starts to become more of a mental game than a physical game. At that point, developing mental toughness and the ability to adapt and stay disciplined throughout a challenging bout is what will really dictate whether or not one will be successful, not how many actions one knows.
Also, one should always go to as many tournaments as he or she can. I feel like a lot of newer fencers began to get discouraged when they continually place lower than they hoped or thought they should. Keep persevering. It will take time but eventually you will gain success, so long as you are determined and put in all the effort you can.
Ian Bower
I started fencing about 8 years ago at Apex Fencing Academy because when I was younger I was way too small for most sports and anything that I tried usually ended poorly. My mom was looking for a basketball camp for my brothers and she saw fencing classes and asked if I wanted to try them. And the rest is history.
I am graduating from Cary High, where I was a major part of the drama program, spending junior and senior years as a captain of an improv team. I've also played major roles in multiple shows. Academically, I am somewhere in the top 10% of my class, ranking around 25 out of about 600. After I graduate I'm planning on going to NC State to get an engineering degree. I'm still not sure what type of engineer I'd like to be, but I'm excited to explore my options.
While at State I hope to fence in the club there. The biggest thing I wish I had known early in my fencing career was that loss is inevitable. I struggled for a long time with losing and because of that my progress stagnated for a bit. It wasn't until I started focusing more on what I could learn from my losses rather than just losing that I really started to improve.
from Apex Fencing Academy http://bit.ly/2WRUlNL
via IFTTT